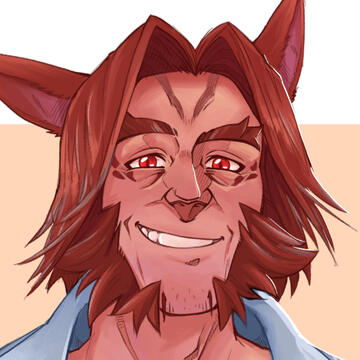 N'fiy "Nifty" Tia
CAT DAD
BEWARE OF ANTICS
Nifty would strike most as an unassuming, half-baked old coot looking to get under people's skin. He's curious and playful to a fault, often earning himself trouble. But beneath the childish, mischievous exterior lies a resourceful, passionate, and perhaps troubled man that runs from his own melancholy by seeking thrills in the unexpected.

He grows older by the day, but remains forever young in his spirit.

Nifty is the shameless author of a selection of questionable literature, ranging between serious and comical, and all salacious in nature. They primarily feature interracial Beast Tribe romances. His more notable titles include "Star-crossed Lizards: An Au Ra and Amalj'aa Liason", "Snogging Sahagin," and "Pounded in the Butt by a Handsome Magitek Exosuit".
Basics
Nicknames
Nifty
Age
53
Nameday
When he decides it is
Race
Seeker of the Sun Miqo'te
Gender
Male
Sexuality
Yes

Marital Status
Single
Profession
Retired informant, author
Residence
The Topmast (Ward 5)
Birthplace
It is a mystery
Patron Deity
None
Server
Mateus
Appearance
Hair
Auburn with graying streaks
Eyes
Magenta
Skin
Fair
Height
5fm, 7im
Build
Dad bod, flexible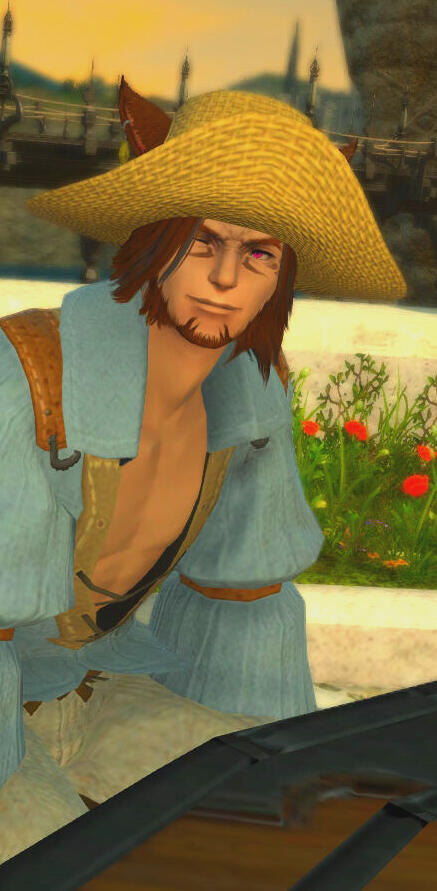 Distinguishing Features
His eyes speak for themselves; they are alight with mischievous energy. He also has two nicely groomed mutton chops.
Clothing
Nifty dresses comfortably and fashionably... and sometimes not-so-fashionably. Some of his button up shirts are unspeakably garish.
Common Accessories
A pair of reading glasses with the lenses poked out he wears to look "distinguished", linkpearl
Personal
Positive Traits
Positive, goofy, observant, sentimental
Neutral Traits
Mischievous, nosy, wistful, talkative
Negative Traits
Depressed, alcoholic, secretive, tormented
Interests
Nifty enjoys mischief, eavesdropping, flirting, writing, sunbathing, socializing, smoking, and drinking.
Dislikes & Fears
There isn't much that Nifty appears to denounce outwardly, tending to be selective about the battles he picks.

Nifty is afraid of being misinterpreted as insincere, losing loved ones, loneliness, romantic commitment, and himself.
Past
Careful. Ask Nifty about where he came from and he'll never let you hear the end of "the good ol' days."

Nifty tries to maintain a mysterious visage by refusing to reveal anything of actual substance when discussing his past.
Trivia
Nifty dotes over his daughter Bolele.

Claims his hearing isn't what it used to be, but retains his knack for eavesdropping nonetheless.

He has a paissa brat that just sorta followed him home one day. He nicknamed him Buddy.

Nifty suffers from a crippling alcohol dependence, though this happens behind closed doors and most never even see him pick up a bottle.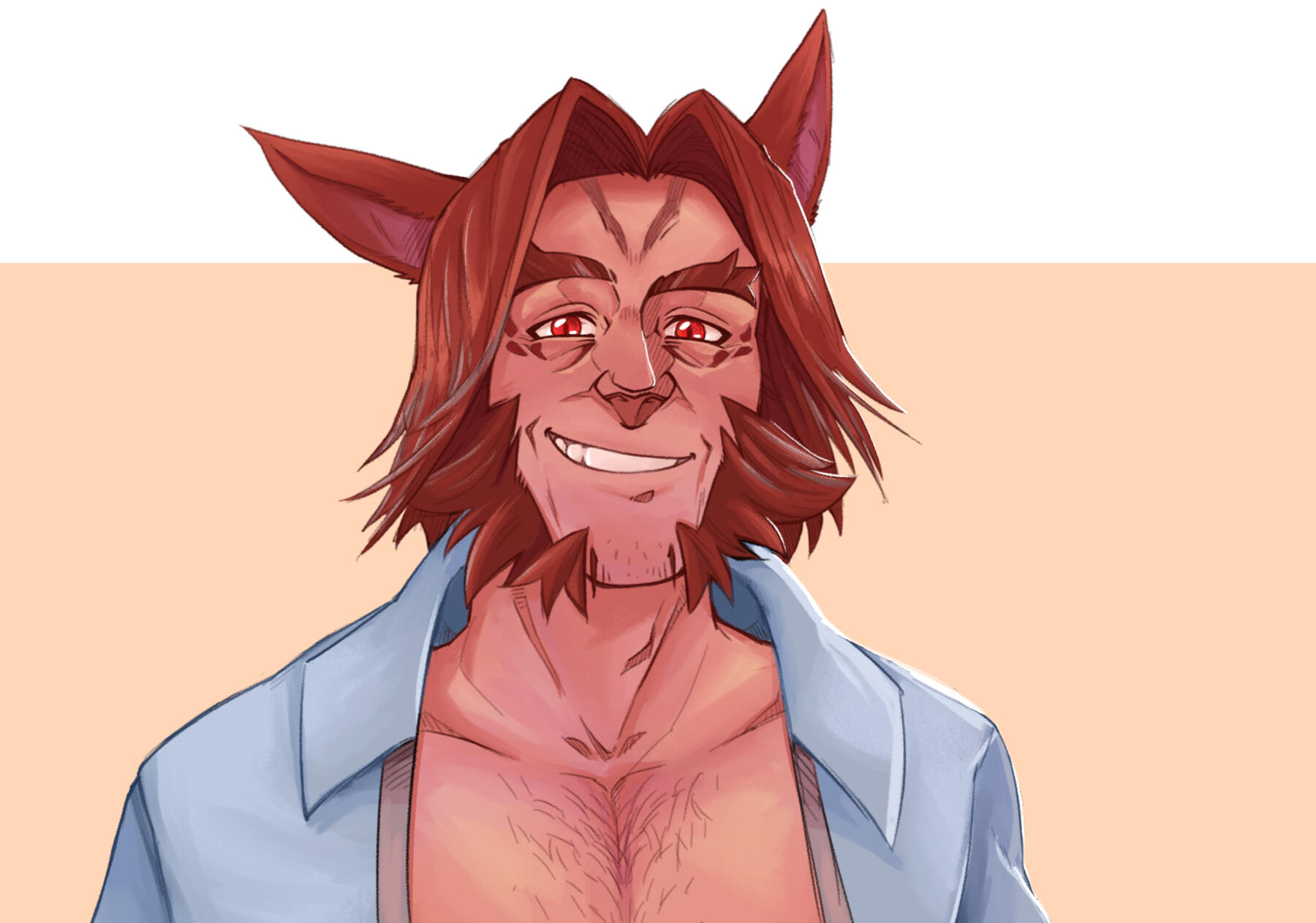 Hooks
Social Butterfly
Nifty loves having harmless fun with others. He flirts, jokes, and laughs with high extroverted energy.
Found Family
Nifty is always keen on sweeping those who need a parental figure in their lives up under his wing.
Strong Bonds
Nifty likes to foster meaningful relationships with people. He does however struggle to keep romantic ones, which leads to...
No Strings Attached
Nifty loves fooling around with no stipulations.
Thrillseeking
The old cat is addicted to the adrenaline surge of finding and escaping life-threatening danger.
The Lonely Nights
Nifty hides many of his deeply repressed issues very well and doesn't seem to open up about them often.